Triple Play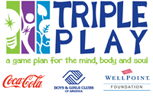 A well rounded healthy living program to promote nutrition for healthy minds, fitness for healthy bodies, and social recreation for happy souls.
Sports Leagues 
Join our seasonal sports leagues including: basketball, soccer, and volleyball for both boys and girls.
Healthy Habits
The "Mind" component of Triple Play teaching good nutrition including nutrition workshops, Iron Chef cooking classes, and healthy eating.